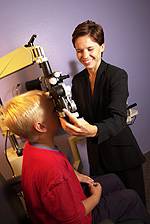 It's hard to believe it's already August, right? Moms and dads everywhere are going shopping for bags and books, making sure their children have all the gear they need to ensure a good upcoming academic year. And if you haven't already done it, it's also a great opportunity to take your son or daughter in to the eye doctor for a comprehensive eye exam.
As you might have guessed, a lot of progress at school is achieved visually. Despite the obvious connection between vision and learning, a lot of parents don't realize how profoundly vision problems affect education, and as a result, don't get their child's eyes checked often enough. It's important to know that because vision in kids changes, regular eye and vision care is central to academic success and overall happiness and wellbeing.
It is extra important to look out for the signs of vision problems as your child progresses in school. Some warning symptoms include confusing numbers or letters, frequently watering eyes, eye rubbing, extra close reading distance, avoiding small print, and head tilting.
Impaired vision and growing visual demands such as homework and small print in textbooks can affect his or her performance. Recently developed educational technology, such as interactive whiteboards, can even provoke previously hidden vision problems. When a student doesn't have good enough vision, it isn't just their performance at school that suffers. It's mentally and emotionally taxing also.
If your child has already been tested for and fitted with glasses, now is a perfect time to reassess the suitability of his or her current frames and maybe buy your child new glasses to start off the new year. The more your child enjoys wearing his/her glasses, the more they'll be worn!
So don't forget to make an appointment to see our optometrists in Alpharetta when you're getting your children all ready for their year. We want to help all the kids we treat commence the year afresh with their vision in check.